Hothouse is a space in Singapore that supports and prototypes artistic practices. It nurtures experimentation and production as a mode of upending conventions and liberating inquiry. Founded in 2020, it is housed within space and time shared between art collective INTER–MISSION, design agency Currency, and more recently, research lab formAxioms.

This ever-evolving interdisciplinary setup encompasses expertise across contemporary art, technology, design, and architecture, allowing for emancipatory approaches toward knowledge building and dissemination.
563 chars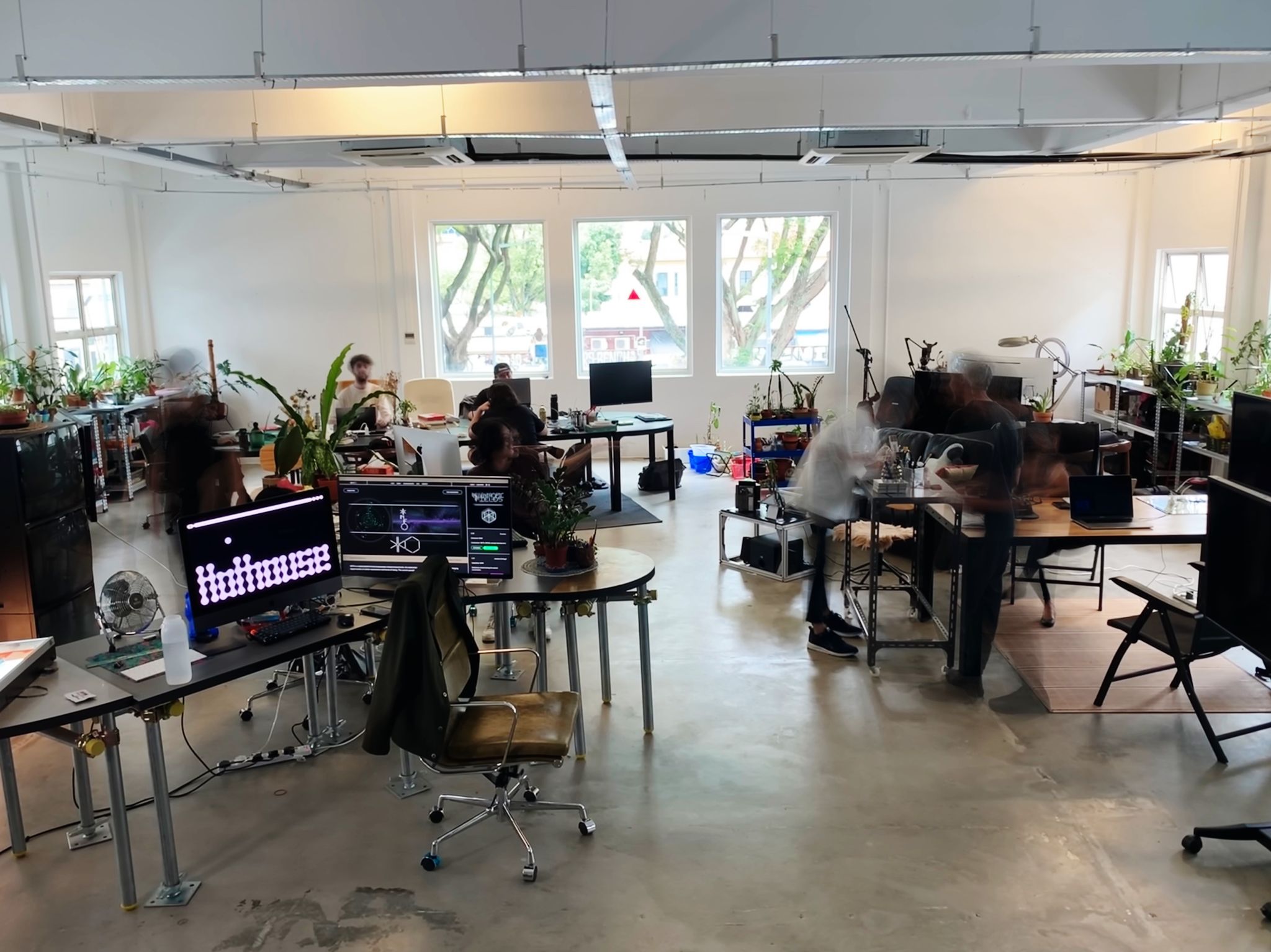 Hothouse is a site for exchange between artists, creatives, businesses, and local-international audiences. External to institutional frameworks, the humid ecologies of the greenhouse foster productive encounters for the deployment and reinforcement of critical and longform creative practices. We do not shy away from speculation, excess, ambivalence, redundancy, ambiguity, inefficiency, etc.
Throughout the years, Hothouse has presented multi-media productions reframing and challenging boundaries between fields of operations. The space has produced the speculative interdisciplinary exhibition Deep Field Cinema, as well as the live broadcast symposium about art and life, In Suspension.
Today, it maintains a technological transdisciplinary focus with an international and intergenerational perspective through its signature programme of residencies, events, and publications. As a project space with a running series of presentations, it has three focuses:
963 chars
Hotdesk is a residency programme that supports artistic and critical research processes, valuing space as a crucial condition of production. This caters to practitioners whose work aligns with research and academia. We hope to share and open workspace, equipment, knowledge, and networks as resources to seed more possibilities for thought, conversations, and collaborations.
375 chars
Intermedia is an event-based programme that explores possibilities of counterpointing film, audio, visuals, and performative elements. We hope to invite practitioners interested in the refinement of their practice by challenging and exploring the possibilities in layering various mediums via architecture (metaverse), AR, VR, and live broadcasting.
349 chars
Mindspace is a conversation series that charts the conditions of various technology-informed art practices and practitioners in an attempt to present a working history of media art in Singapore.
194 chars
Together, we consider, how do artistic processes and structures define space? How can existing modes of artistic presentation be adapted into a broader range of formats? How can shared resources be redeployed to perceived limitations? What are the neccessary conditions for artistic production?
294 chars